Messente is a business text messaging service 
Achieve Commercial Growth with Business Text Messaging

Engage customers via SMS – 90+% delivery rate
Send text message marketing and PIN codes worldwide
Get personalised support from an account manager
Deliver SMS marketing, PIN codes, and transactional texts globally. Messente's network spans over 190 countries.

Impressive delivery rates
Messente's business text messaging solution lets you deliver SMS marketing, customer service messages and 2FA PIN codes right into your customers' hands. Our customers often achieve delivery rates as high as 98%.
Simple pricing
Manage your budget easily with Messente's straightforward Pay-as-You-Go pricing system. You'll only pay for the business SMS messages you send. You can
calculate pricing here
or
get a quote
for tailored pricing.
Access a suite of SMS marketing tools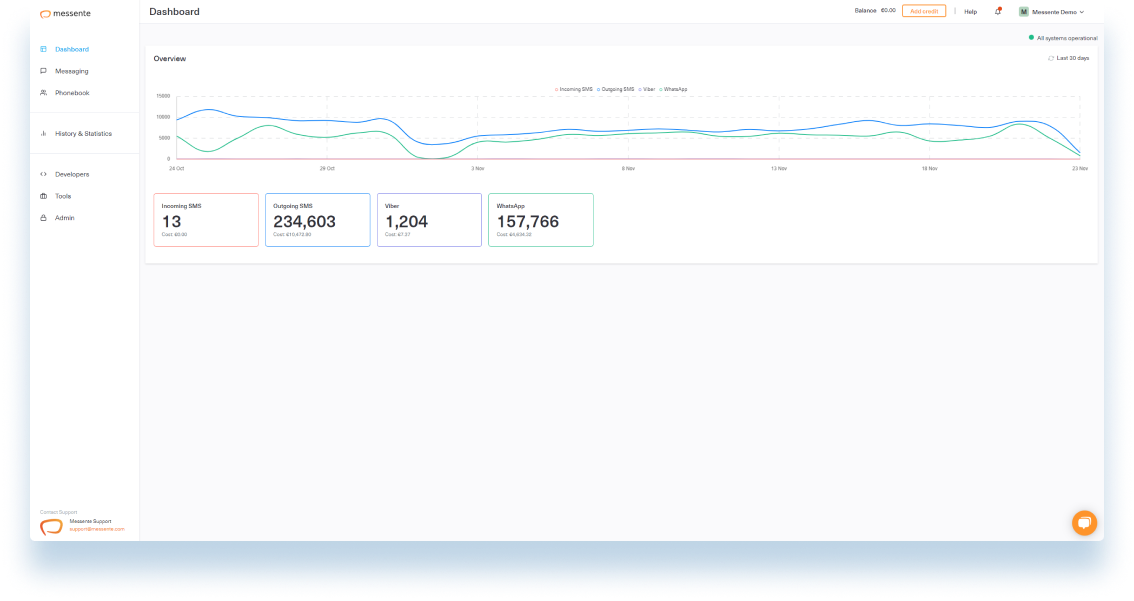 Straightforward pricing
You won't get charged any setup, subscription or hidden fees. Pay only for the texts you send and scale the volume up or down as needed.
Quality support
All clients receive a comprehensive level of support free as part of our service. You can contact us through live chat, email or phone calls.
Dynamic routing
Messente uses intelligent routing algorithms to identify the speediest delivery channels. This means your business texts are always sent and delivered promptly.

Informative analytics
You'll know exactly how your business texting campaigns perform in real-time, with access to delivery reports, campaign history and more.

Smart features
Upload and segment contacts, preview texts before you send and schedule campaigns ahead of time. Integrate Messente's API into your business systems to unlock its full potential.
Easy to scale

Messente's business text messaging services are designed to scale in line with your messaging volumes. We can deliver any capacity of texts you need.
A business texting service that exceeds expectations
High throughput
As an SMS marketing service, Messente can handle large-scale blanket SMS campaigns with as many as 100,000 texts sent per second.
Direct links to operators

Messente works with over 800 mobile operators to provide superior business texting services. Your business-critical texts will be sent via the most reliable routes.
Unrivalled customer service
Messente's level of service is what sets us apart from our competitors. We're always on hand to help you get the best value from your business texting campaigns.
What our clients say
A versatile messaging solution for many sectors
Messente is ideal for sending marketing campaigns, delivery updates, appointment reminders, SMS PIN codes and more.
Offer increased security, stay compliant, and grow your business with OTPs and marketing messages.

Make sure that every package gets received and decrease alternative costs with SMS notifications.

Send shipping notifications and marketing offers to increase customer LTV.

Create personalised appointment reminders to decrease no-shows and protect your income.

Send booking information, manage reservations, and create marketing campaigns to improve customer service and increase revenue.

The best business texting service for quality and price


FAQ
What is a business text messaging service?
Business text messaging services are intermediaries between companies that want to reach customers by text and mobile phone networks. Using a business texting service, you can create a single SMS message and send it to a vast group of subscribers simultaneously.
Some providers cater for incoming and outgoing texts (two-way), enabling customer engagement. Using Messente, you can create SMS templates, schedule campaigns, view analytics and more. Register for our business texting service today to see what else you can do with Messente.
What does network throughput mean?

Network throughput refers to the number of text messages you can send through a mobile operator each second. Messente enables you to send around 100,000 texts per second, making it an ideal solution for mass messaging.

Where can I send business texts?
Messente is a global solution – you can text your audience through our extensive network of 800+ operators in almost 200 countries. If you have customers spanning several continents, we're likely to be able to help you.

What channels does Messente offer for business texting?
Along with SMS, you'll have the option to text customers using Viber, Telegram and WhatsApp. Watch this space because we're working on adding more OTT business texting channels.

How much does Messente's business texting service cost?

Messente offers a clear and simple Pay-As-You-Go pricing structure. Your business text messages will cost as little as 0.001€ per text message. The more business texts you send, the most cost-effective your campaigns will become. Calculate your pricing here or get a quote for custom pricing if you think you'll be sending a high volume of messages.
Which business texting service is best?
There is a range of SMS service providers to choose from. If you're looking for reliability, outstanding service and value for money, look no further than Messente. Especially if you're sending large message volumes, as you'll get your own dedicated account manager.

Can I carry out business texting one time only?

You can use Messente as frequently or infrequently as you need. If you just want to send one blanket text message campaign, that's fine. Likewise, we want to support you with your long-term messaging needs.

Can I personalise business text messaging campaigns?

Yes – we highly recommend it, as doing so will help grab your subscribers' attention and encourage them to engage with your content. When creating texts with Messente, you can use 'tags' which correspond to information in your subscriber database. Many of our clients personalise their text messages with their customers' names, appointment times, products purchased, etc.

Can I carry out business texting without getting opt-ins?

If your message content could be construed as promotional (which most SMS campaigns are), then no. You must obtain consent from individual subscribers before texting them – this is part of complying with data protection laws such as the GDPR and TCPA. Getting opt-ins is a simple process we can advise on when you use our services.

Start generating leads with SMS today
Free credits included
Sending large volumes of messages per month?