Carrier Lookup
 Take the guesswork out of reaching customers with the phone carrier lookup tool
  Start sending business messages to validated numbers with Messente
 How to Use the Phone Carrier Lookup Tool
Our free phone carrier lookup tool helps you to improve the quality of your database. By entering the number, you'll get information about the validity, carrier, and location. Here's how to use this tool: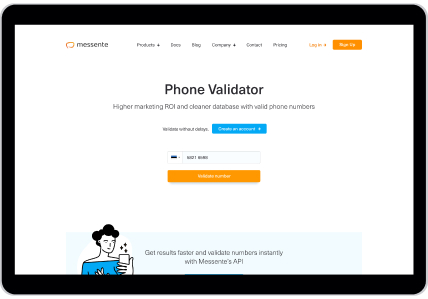 Step 1
Enter the phone number you wish to look up and select the country.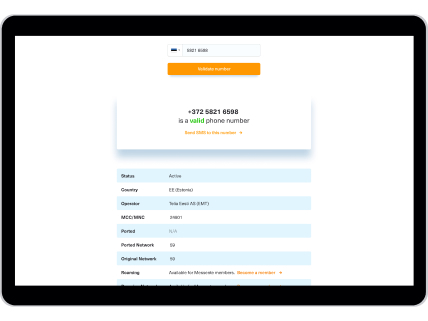 Step 2
Click on the "Check Number" button to validate the phone number. It'll take a couple of seconds. There will be carrier information displayed if the number is valid.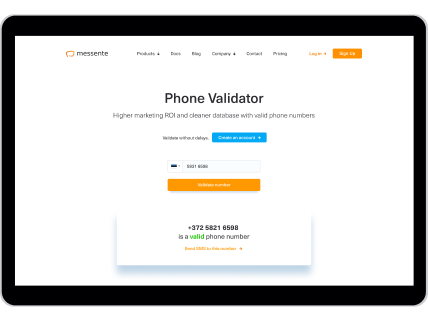 Step 3
If you wish to look up another number, enter it in the form above and click on the button.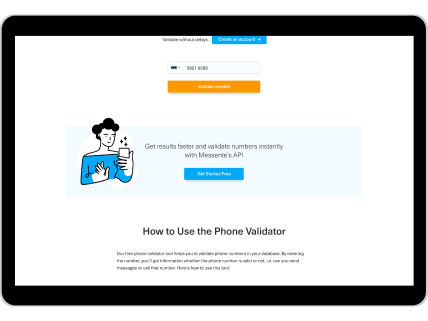 Step 4
Create a Messente account to start sending messages to that number and look up numbers automatically using our
Number Lookup API
.
FAQ


How accurate is this tool?


This carrier lookup tool uses Google's public database to check the numbers; no HLR checks are done. Thus, there can be cases where the data is not accurate. We recommend using Messente's Number Lookup API for the most accurate and up-to-date information.


Why use the carrier lookup tool?


Invalid phone numbers can prove costly to your business, especially if you're sending out SMS campaigns to those numbers. Messente's carrier lookup tool is the ideal solution for keeping your customer database clean from phone numbers that are incorrect or simply don't exist.
Why does the carrier lookup tool exist?


While there are billions of phone numbers in existence, they are only useful if they're correct. Messente developed the carrier lookup tool so you can ensure that whenever you attempt to connect with a phone number to deliver business communications, your message will reach its intended target. By increasing the accuracy of your phone number database, you will increase your messaging ROI.


What are the advantages of the carrier lookup tool?


The carrier lookup tool allows you to check and validate all phone numbers to improve the overall quality of your customer database. It links with our extensive network of worldwide mobile operators. Specifically, our phone carrier lookup tool helps by:
Providing validity, carrier and location information about each phone number.
Cleaning up your database.
Making business processes more effective.
Increasing your messaging ROI.
Improving the customer experience.


Why do you need to check phone numbers?
There are several reasons why text messages don't get delivered. An invalid phone number is one of the main causes. By using our free carrier lookup tool, you can eliminate incorrect or non-existent phone numbers from your database to ensure you only call or send mass messages to valid numbers. This has a direct impact on lowering your SMS messaging costs and saves you time and resources too. We recommend you use the carrier lookup tool each time you add phone numbers to your database and before you launch an SMS campaign.
How does the phone carrier lookup tool work?
Messente's free carrier lookup tool discreetly connects with each phone number to check its validity and to see if it can receive communications. This process doesn't disturb the phone number owner in any way; they will not receive a notification.


If I use Messente's carrier lookup tool, will users be notified?

No, the phone number owner will not be notified when you use our carrier lookup service. This applies to landline and cell phone owners alike.