SMS verification you can
depend on
Authenticate users reliably with a 98% delivery rate
Send business-critical SMS verifications worldwide
Benefit from personalised support when you need it
Double-check user identities with 2FA PIN codes in more than 190 countries through our network of 800+ operators.

Reliable delivery
Messente's delivery rates are exceptionally high. You can depend on us for reliable SMS verification – PIN codes are sent directly to users so they can quickly complete the security process. Our customers often achieve delivery rates as high as 98%.
Cost-effective solution
Only pay for the PIN codes you need to send with Messente's Pay As You Go pricing structure. The price per SMS varies depending on volume and destination. Get started with completely free SMS credits. You can
calculate pricing here
or
get a quote
for tailored pricing.
A complete toolset for SMS verification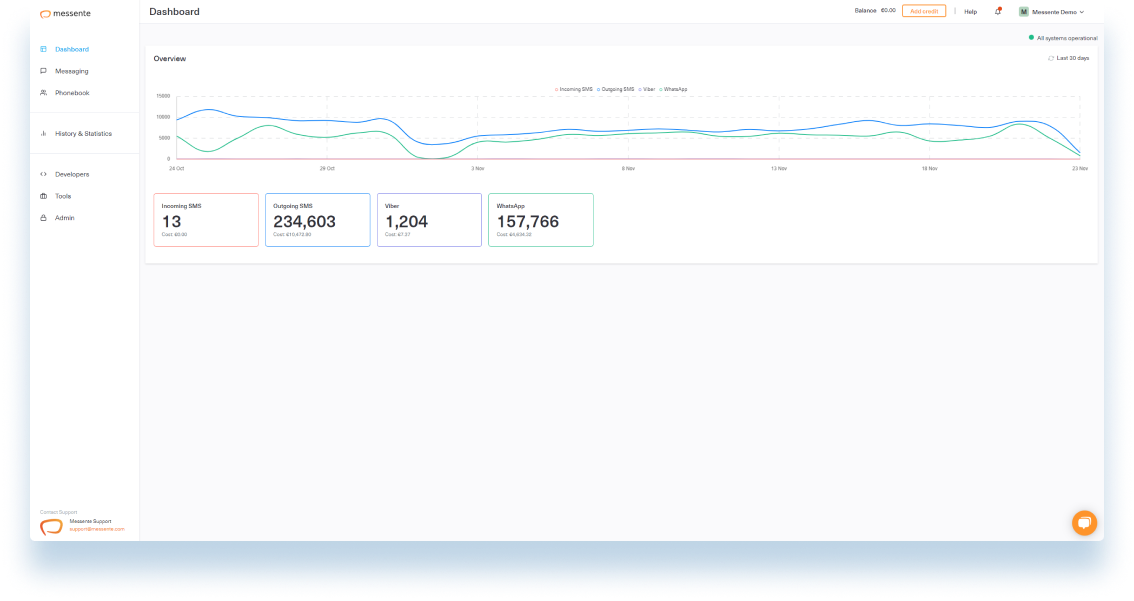 Volume-based pricing
Messente only charges for the SMS messages you send. There are no hidden fees to worry about, and you can scale your messaging volumes up or down as needed.

Personal support
Messente offers all clients the same top level of customer service irrespective of messaging volume or spend. You'll always be able to speak to a real person if you need help.
Rapid routing
Receiving SMS PIN codes immediately is essential to ensure users complete the verification process. We use intelligent algorithms to ensure your messages are routed through the fastest delivery channels.
Helpful analytics
Easily identify incorrect or fake phone numbers using Messente's analytics. Message delivery reports and historical data help flag verification failures and help prevent fraud.
Verification tools
Set and forget SMS verification – Messente automatically generates PIN codes when authentication is needed. Resend triggers are in place in the unlikely event texts can't be delivered.
Scalable messaging
Messente is built to scale; the platform can handle huge volumes of SMS verifications to cover your needs as your customer base grows.
Users receive SMS verifications instantly
Network throughput
Messente's SMS verification services let you send 150 messages per second to check the identity of each user and ensure they're using a real phone number.
Operator partnerships
Messente has direct links with leading mobile network operators to ensure reliable and speedy user authentication
Dependable support
Messente offers a plug-and-play verification service so you can verify users seamlessly. But if you experience any issues, you can always call us or use our online services to get help fast.


What our clients say
SMS messages are ideal for multiple uses
Whether you need to verify new account users or provide 2FA authentication for approval of financial transactions, Messente can help.
Offer increased security, stay compliant, and grow your business with OTPs and marketing messages.

Make sure that every package gets received and decrease alternative costs with SMS notifications.

Send shipping notifications and marketing offers to increase customer LTV.

Create personalised appointment reminders to decrease no-shows and protect your income.

Send booking information, manage reservations, and create marketing campaigns to improve customer service and increase revenue.

A great value solution to keep data secure


FAQ
What is SMS verification?
It's very easy for a fraudster to obtain a fake phone number and use it to create a bogus account. SMS verification allows you to double-check the identity of service users to ensure they're genuine. Messente offers an omnichannel verification API that lets you verify users automatically so you can concentrate on other aspects of your business. Create a free account to get started.
What does network throughput mean?

Network throughput refers to the number of texts you can send at any one time through mobile operators. It's an important term to know if you have mass verification requirements. Using Messente, you can send up to 100,000 verification text messages per second.
Where can users receive SMS verifications?
You can verify users in most parts of the world using Messente's verification API. We have over 800 mobile operator connections in more than 190 countries.
What channels are available for verification messages?
Messente offers fallback routes on Viber and WhatsApp just in case SMS messages aren't delivered due to a problem at the user's end. This virtually guarantees that PIN codes and one-time passwords (OTPs) are received by the recipient.
How much does Messente's verification service cost?

With Messente, you'll only pay for the verification texts you send. Prices start at just 0.001€ per text message. Our pricing is volume-based, and the more verifications you send, the lower the cost. Calculate pricing here or request a quote if you need custom volume pricing.
Which platform offers the best SMS verification service?
User verification is essential in keeping customer accounts safe and secure. Messente uses cutting-edge technology, stable operator routes and secure connections to ensure verification messages are delivered. We'll help you weed out fake virtual phone numbers created by fraudsters and provide reliable support whenever you need help. If your verification needs are large-scale or complex, we'll also assign you a dedicated account manager free of charge.
Can I send verification messages just once?

You can use our service if you need to verify service users one time only or every time someone needs to log into their account. You just need your users' phone numbers to get started. We can set you up with a virtual phone number if required, which you can use to send verifications.
Can I personalise verification messages?

Most recipients are used to receiving very simple PIN codes and OTPs that don't contain any other personal details. But if you want to add personalisation, such as users' names, you can.
Can I send verifications without getting permission?

If you're setting up text messaging account authentication, you'll need to inform users that you'll send them a PIN code to verify their identity. So it's best practice to get their consent at the same time. Technically, you don't need to collect permissions for these types of text messages.
Start verifying users with SMS today
Free credits included
Sending large volumes of messages per month?