Messente is a text alert system for businesses
Send Text Alerts Reliably to Keep Stakeholders Informed
Notify customer and employees with 90% delivery rate
Send business-critical text message alerts globally
Receive support from a personal account manager
Deliver time-sensitive or emergency notifications worldwide in 190+ countries via 800+ mobile operators.

Excellent delivery rates
Messente offers you peace of mind that critical information like PIN codes, transactional messages and emergency alerts will be delivered quickly and reliably. Our customers often achieve delivery rates as high as 98%.
Fair pricing

Messente's pricing structure is Pay As You Go. So you'll only ever pay for the texts you send. There are no contract tie-ins or hidden fees. You'll even get some free credits to help you get started. You can
calculate pricing here
or
get a quote
for tailored pricing.
Omnichannel platform
Messente's text notification system includes Viber and WhatsApp alongside SMS. You can deliver your critical communication strategy across all these channels.
Find out more in our documentation
A text alert system with all the tools you'll need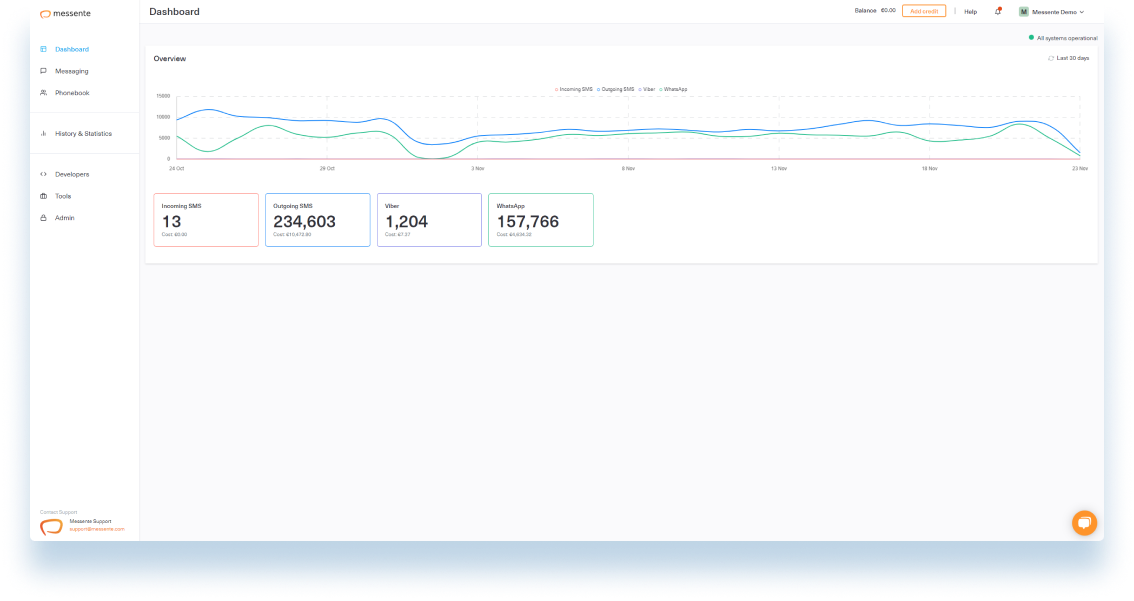 Clear pricing
Messente's pricing is volume-based to fit your messaging needs. You're in control of how much you spend, and you can preview the cost for each SMS campaign before hitting 'send'.
Free support
Every Messente client receives free, personalised support no matter the message volume. You'll also get your own account manager if your requirements are complex.
Fast routing

SMS alerts are delivered super fast due to Messente's intelligent routing algorithms – meaning subscribers receive timely information (essential in emergencies).
Reporting and analytics
Easily check that time-sensitive text notifications are being received or responded to in Messente's online dashboard. View analytics like delivery reports, campaign history and more.

Smart texting tools
Messente's messaging tools let you preview and schedule texts, create templates, include unsubscribe links and more. You can also integrate Messente into your business systems.
Designed to scale
Messente offers an enterprise-grade emergency notification system built for massive volumes of text messages. We've got your crucial mass messaging needs covered.

A text alert system you can trust
High network throughput
Send as many emergency or urgent text alerts as you need – Messente can handle up to 100,000 texts per second and uses cellular networks for speedy delivery.

Direct network access
We directly work with leading mobile networks to provide our high-quality, reliable text alert system. Your messages will always be delivered via the quickest routes.
Personalised support
When you need to send critical information, like security alerts, roster changes or emergency instructions, our expert team is always available to help if needed.

What our clients say
Text alerts for a range of business needs
Messente is ideal for informing stakeholders about service disruptions, emergencies, reminders and other high-priority information

Offer increased security, stay compliant, and grow your business with OTPs and marketing messages.

Make sure that every package gets received and decrease alternative costs with SMS notifications.

Send shipping notifications and marketing offers to increase customer LTV.

Create personalised appointment reminders to decrease no-shows and protect your income.

Send booking information, manage reservations, and create marketing campaigns to improve customer service and increase revenue.

Send text alerts reliably at an affordable price


FAQ
What are text alert systems?
A texting alert system allows you to instantly and conveniently update large groups of people with important information. Messente is ideal for appointment reminders, last-minute changes to plans, security alerts, confirmations and emergency notifications. Our platform is cost-effective and has many useful features – like message preview and scheduling, template creation tools, audience segmentation and more. Get started with text alerts today.
What is network throughput?

The term 'network throughput' is important to understand if you need to send a mass text message. It relates to how many texts can be transmitted through mobile phone networks each second. Messente has a very high network throughput of 100,000 texts per second.
Where can I send text alerts?
Messente is a global messaging solution that allows you to send text messages in over 190 countries via 800 mobile operators. There aren't many places in the world that can't be reached via Messente!
What channels can I use to send text alerts?
When you use Messente's cutting-edge Omnichannel API, you can send text alerts via four different channels: SMS, WhatsApp, and Viber. We're currently working on adding more OTT channels.
How much does Messente's text alert service cost?

Text message alerts start at just 0.001€ per text message. The cost varies depending on your messaging volume and the locations to which you're sending text alerts. It's extremely easy to calculate pricing using our website. To find out about custom volume pricing, request a quote here.
Which SMS provider offers the best text alert service?
There are quite a few text notification systems on the market nowadays. Which one you choose depends on your specific needs. One feature that sets Messente apart from others is our level of customer service. You can contact us by phone, live chat, or email; we don't charge even if you need a dedicated account manager.
Can I send text alerts just once?

Yes. You can send SMS alerts one time only or regularly using Messente's platform. We don't tie you into a specific messaging volume per month – just Pay As You Go and use our service as little or as often as you like.
Can I personalise text alerts with Messente?

Yes – whatever data you hold about your subscribers, if it's contained in a database, you can use it in your SMS alerts. We recommend personalising business texts as this helps to grab attention.

Can I send text alerts to customers without getting opt-ins?

It's best practice to obtain permission from all subscribers if you want to text them, even if you only intend to send critical information. If you're sending anything that could be construed as text message marketing, opt-ins are a must (otherwise, you could breach text messaging regulations such as the TCPA and the GDPR).

Start sending text alerts today
Free credits included
Sending large volumes of messages per month?