Messente offers SMS software for PC
Boost Business Growth With SMS Software – Achieve 5x ROI

Easily reach customers with a 90% plus delivery rate
Send marketing messages globally
Benefit from free dedicated support
Send text messages directly from your computer to over 190 countries via 800+ mobile operators.

Excellent delivery rates
With Messente, it's easy to send business-critical SMS messages from your desktop computer, and they'll safely reach their destination – your customers' phones. Our customers often achieve delivery rates as high as 98%.
Fair pricing
You'll only pay for the SMS campaigns you send, and you can get started with free credits. Pricing is based on messaging volume and the countries you send texts to. You can
calculate pricing here
or
get a quote
for tailored pricing.
Omnichannel service
If your customers can't be reached via SMS, you can use Messente's fallback options, which include Viber and WhatsApp. Other OTT channels coming soon.
Find out more in our documentation
All the tools you need for successful SMS messaging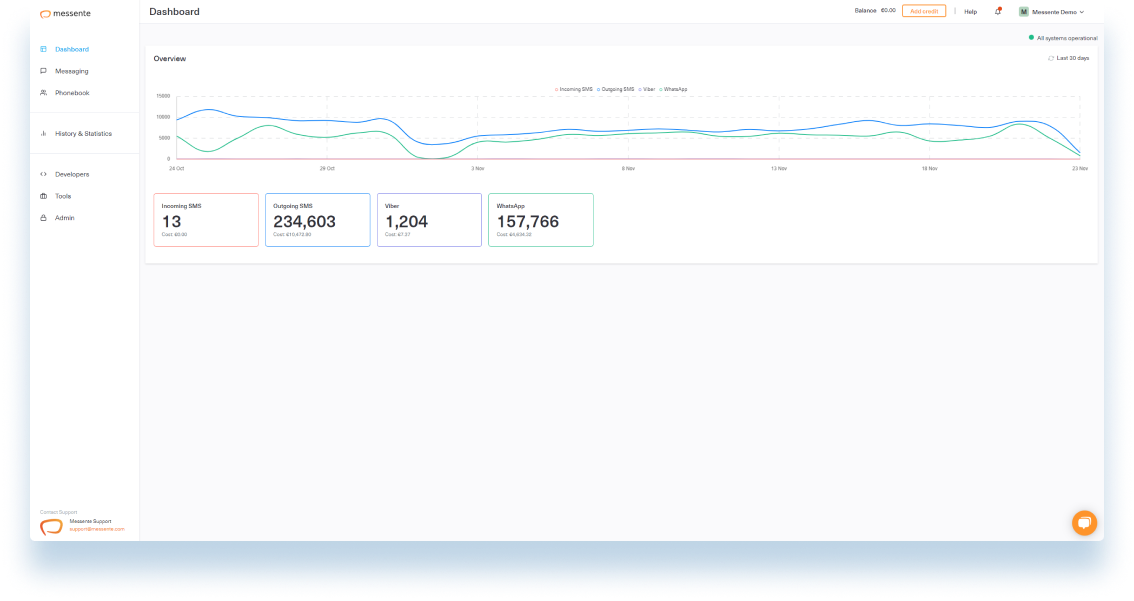 Clear pricing
Keeping track of your text marketing spend is simple with Messente – you'll simply pay as you go. And you can view campaign costs before you hit 'send'.
Exceptional support
Customer support is always on hand if you experience any problems (it's free). And if you're running large-scale, complex SMS campaigns, you'll also get your own account manager.

Fast routing
Messente uses intelligent routing algorithms to identify the quickest, most reliable delivery channels. All texts are sent virtually instantly.


Useful analytics

Access your campaign history and performance statistics (e.g. delivery reports) in Messente's online dashboard to evaluate the success of your SMS campaigns.

Campaign tools

Preview your SMS campaign before you send it, or schedule it in advance. Create SMS templates to save time and personalise your content to grab attention.
Scalable solution
Sending SMS is a breeze with Messente's enterprise-level API. It's built to scale and will reliably handle any number of texts your business needs.

The only SMS solution your business will ever need
Exceptional throughput
Messente offers high network throughput enabling you to send up to 100,000 texts every second. Even the largest messaging volumes are delivered at lightning speed.
Direct operator links
Messente gives you direct access to an extensive network of mobile operators. All your messages will be sent and delivered through the most viable routes.
Superb customer support
Our SMS software makes it very simple to send text messages. But if you experience any issues, our support team is always on hand to help you navigate and improve your campaigns.

What our clients say
SMS software that works for all business sectors
No matter your business type, Messente has your SMS requirements covered
Offer increased security, stay compliant, and grow your business with OTPs and marketing messages.

Make sure that every package gets received and decrease alternative costs with SMS notifications.

Send shipping notifications and marketing offers to increase customer LTV.

Create personalised appointment reminders to decrease no-shows and protect your income.

Send booking information, manage reservations, and create marketing campaigns to improve customer service and increase revenue.

Messente offers unrivalled value


FAQ
What is Messente's SMS software for PC?
Messente is a global SMS provider. We enable businesses to send text messages to customers in every corner of the world. Our software includes smart tools such as text message templates, SMS preview and scheduling, audience segmentation and more. You can use Messente to send texts via your computer, an app or our online control panel. Create an account to get started.
What does network throughput mean?

Network throughput refers to the number of SMS messages you can send to contacts each second. This is important to know if you're planning to send hundreds or thousands of texts in a single campaign – as you'll probably want them all to be delivered simultaneously. With Messente, you can send 100,000 texts per second.

Where can I send SMS messages?
Messente has a vast network of mobile operators and hubs, allowing you to send texts to customers in almost 200 countries. Use our SMS templates to get started quickly.

What channels does Messente offer?
Using Messente's Omnichannel API, you can send Viber, WhatsApp and Telegram messages as well as SMS. We're continuously developing our products and will be adding more OTT channels soon.

How much does Messente cost?

SMS messages cost as little as 0.001€ per text. The cost varies by the destination country and the text volume you want to send. You can check pricing here or request a quote if you want to find out about custom volume pricing.

Which provider offers the best service for text marketing?
There are several SMS providers to choose from that let you send texts from your computer. Messente ticks all the boxes for service quality and price. And one particular area where we stand out is our customer service. You'll get comprehensive support whenever the need arises (and it's totally free).

Can I send text messages just once?

Messente is an SMS provider, and you can use our service both once or frequently, depending on your requirements. We only stipulate that you capture subscriber opt-ins so your business doesn't break any data protection laws.

Can I personalise SMS messages with Messente?

Yes! Part of our SMS tools includes 'tags', which enable you to pull across data from your contact lists and personalise your message content. You can add your customers' names, a product they've purchased, an appointment time or date... the options are endless. Whatever data you upload into Messente's system, you can use in your campaigns

Can I send SMS marketing messages to customers without getting opt-ins?

No. Sending SMS to people who haven't given consent would breach data protection legislation such as the TCPA in the United States and the GDPR in Europe. Plus, it could potentially annoy customers and drive them to complain. Always get permission from customers (or prospects) before you text them.

Start using an SMS software today
Free credits included
Sending large volumes of messages per month?