Messente is a text blast service
Grow Your Business With Text Blasts – Achieve 500% ROI
Benefit from a delivery rate of over 90%
Send marketing and verification texts globally
Dedicated support from an account manager
Deliver text blasts with consistent quality anywhere in the world.
Over 190 countries and 800 operators.
High delivery rates
Using Messente's text blast service, your business-critical PIN codes, transactional notifications and marketing messages are safely delivered directly into your customers' hands. Our customers often achieve delivery rates as high as 98%.
Affordable pricing
Messente's pricing is volume-based – you only pay for the text message blasts you send. Start with free credits to try before you buy. Text blast prices differ depending on volume and destination country. You can
calculate pricing here
or
get a quote
for tailored pricing.
Omnichannel messaging
Send text blasts on other messaging channels such as Viber (in addition to SMS blasts). With Messente's fallback options, you'll reach customers on their channel of choice.
Find out more in our documentation
Complete toolset for impactful text blasts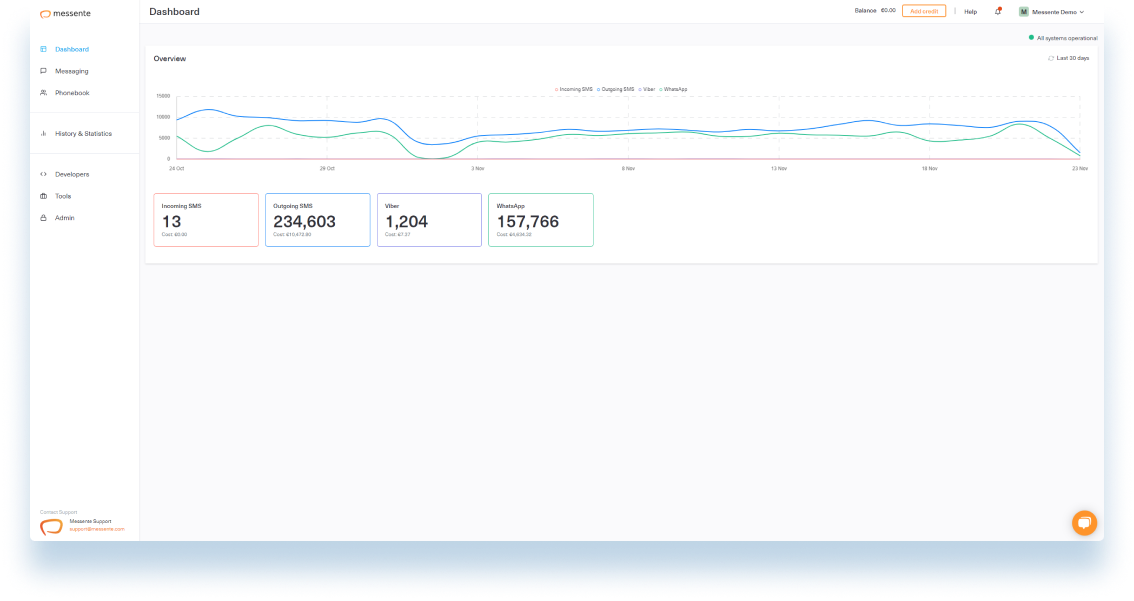 Transparent pricing

With Messente, you'll only pay for the messages you send. There are no setup or subscription fees; you can scale your volumes up or down as needed.

Dedicated support
Customer support is included free with all Messente's services. You can speak to a real person whenever you have a question or need help.
Intelligent routing

Your messages are sent and delivered reliably due to our adaptive routing algorithms, which identify the best delivery channels.
In-depth analytics
Access campaign history, delivery reports and more in Messente's online dashboard to help you understand how your messages are performing.

SMS campaign tools
Tools like message preview and scheduling, templates, unsubscribe links and CRM integration allow you to run targeted, personalised campaigns.

Fully scalable
Messente's enterprise-grade API can be trusted to handle any volume of text blasts your business needs ­as it grows.

A text blast service that doesn't disappoint
High network throughput

Send as many text message blast campaigns as you need quickly and reliably. Messente's platform lets you send up to 150 messages per second.

Direct network links
Unlike some other providers, we work directly with leading mobile operators to provide high-quality SMS blast services. Your text blast will get delivered through the best routes.
Outstanding customer support
Setting up a text blast is easy with Messente's customer support team. We'll help you navigate and scale your text blast marketing campaigns throughout your business journey.
What our clients say
Send text blasts across every industry
Our text blast services are built to accommodate every business need

Offer increased security, stay compliant, and grow your business with OTPs and marketing messages.

Make sure that every package gets received and decrease alternative costs with SMS notifications.

Send shipping notifications and marketing offers to increase customer LTV.

Create personalised appointment reminders to decrease no-shows and protect your income.

Send booking information, manage reservations, and create marketing campaigns to improve customer service and increase revenue.

 A text blast service with no equal


FAQ
What is a text message blast?
A text message blast allows you to send an SMS message to large numbers of people within seconds. Messente offers affordable text blasts with features like audience segmentation and message scheduling (so you can send a text blast to the right audience at the best time). Send your first text blast today.
What is Messente's network throughput?

If you're planning to send a text blast through text blast software, it's helpful to know what the term 'network throughput' means. Network throughput refers to how many texts you can send per second – and the amount depends mainly on the mobile operator. Using Messente, you'll benefit from a network throughput of over 100,000 messages per second for a single text blast.
Where can I send a text blast?

Thanks to Messente's Omnichannel API and links with over 800 mobile operators worldwide, you can send a text blast to subscribers in more than 190 countries. Please note that text blasts require subscribers to opt-in to receive them.
What channels are available for text blasts?

Messente's state-of-the-art text blast app works via an Omnichannel API supporting SMS, Viber, WhatsApp and Telegram messaging. We're constantly developing our products and are working on adding more OTT text blast channels.

How much does Messente's text blast service cost?

With Messente, SMS message prices start from as little as 0.001€ per text message. However, SMS or SMS blast pricing primarily depends on your business's text messaging requirements. Why not calculate your pricing here or request a quote via our web form for custom volume pricing?
How many messages are considered a text blast?

More than 100 text messages sent simultaneously are considered an SMS blast. Messente can handle any volume of messaging. Whether you only need to send 100 text messages per SMS blast or SMS blasts with 100,000 messages, we've got you covered.

Which platform offers the best SMS blast service for text messages?

There are numerous messaging providers around that offer text blasts. What sets Messente apart from the competition is our partnership approach. We provide free support to all customers, plus a dedicated account manager at no extra cost if you send large SMS blast campaigns regularly.

Can I send text blast messages just once?

Yes. Messente's dashboard is a type of text blast app. Using it, you can send text blasts one time only or as many times as you like, as long as you have your subscribers' phone numbers and have captured their requests to opt-in. Our SMS blast software is straightforward to use, and you can get started for free.

Can I personalise plain text messages when sending SMS blasts?

Yes. Text message marketing shouldn't be boring. When sending SMS blasts or any kind of text message with Messente, you can personalise your text messaging with tags like the subscriber's first name or any other relevant data.

Can I send a text blast to my customers without getting opt-ins?

No. Text messaging without your customers' consent is just like sending spam text messages to strangers. It also breaches the Telephone Consumer Protection Act in the United States, plus similar legislation in other countries. Ensure all your text message recipients have given their permission to receive SMS marketing from your business.

Start sending text blasts today
Free credits included
Sending large volumes of messages per month?