Viber Business Messages
Send rich content messages to create meaningful conversations with 1 billion Viber users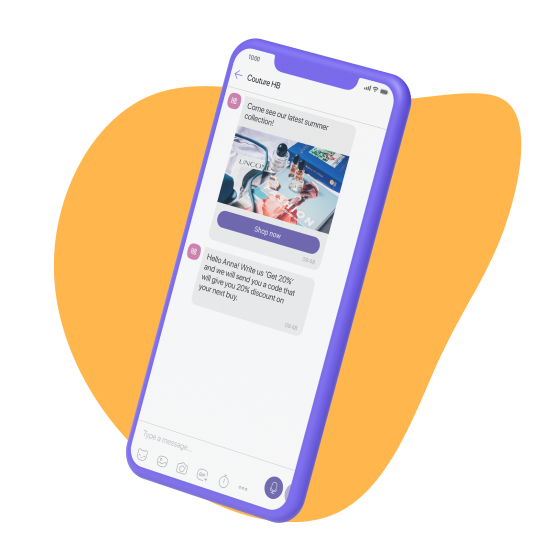 Get Closer To Your Customers

Communicate in a channel that delivers results. Viber enables you to send messages that truly resonate with your customers.

Unified communications
Create a cohesive strategy with promotional, transactional and conversational messages all in one channel.

Totally secure
With HTTPS connections, business messages are encrypted in transit and aren't stored on Viber's servers.

Builds trust
An official business account includes your branding and displays a blue tick to signal authenticity to users.
Flexible messaging
Use 1000 characters, images, videos, a URL and attach files in business messages, for interactive conversations.

Smart analytics
Detailed data insights, including open and read metrics, allow you to perform better segmentation and targeting.

Cost-effective 
Only pay for delivered messages and use TTL to save money by putting a time limit on delivery.

Covers All Your Business Messaging Needs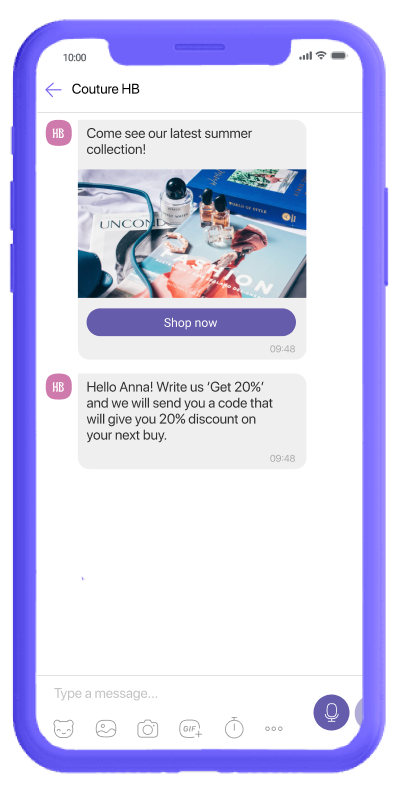 Promotional
Dedicated discounts
Coupons
Custom offers
Birthday celebrations
Loyalty program status
Re-engage with reminders
Transactional
Order confirmation
Delivery tracking
Registration confirmation
Boarding passes
Meeting reminders
Conversational
Manage your Customer
Support (live agent, AI)
Collect feedback and reviews
Provide customer service
Generate leads
Account user access
(bank, insurance, telco)
Reach Customers in Different Parts of the World
FAQ
What is the setup process for Viber Business Messages?
Messente, as the official partner of Viber Rakuten, will manage the approval of all new Viber Business Accounts on behalf of the businesses, and businesses will use our Omnichannel API to send Viber (and SMS) messages.
How much does it cost to send Viber Business Messages?
There's a country-specific minimum monthly commitment and - similarly to SMS - varying country-specific prices per transactional Viber message and per promotional Viber message.
Do customers need to opt in to receive Viber Business Messages?
Yes, this is very thoroughly monitored.
Ready to Get Started with Viber Business Messages?
Talk To Our Experts Today