Phone Validator
 Higher marketing ROI and cleaner database with valid phone numbers
Start sending business messages to validated numbers with Messente
How to Use the Phone Validator
Our free phone validator tool helps you to validate phone numbers in your database. By entering the number, you'll get information on whether the phone number is valid or not, i.e. can you send messages or call that number. Here's how to use this tool: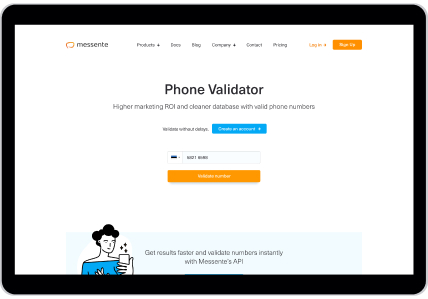 Step 1
Enter the phone number you wish to validate and select the country.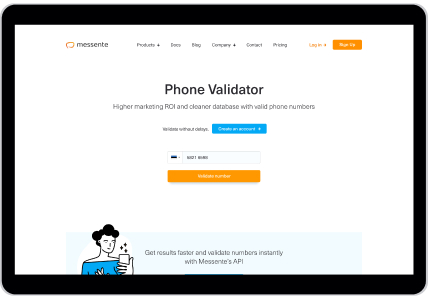 Step 2
Click on the "Validate Number" button to validate the phone number. It'll take a couple of seconds.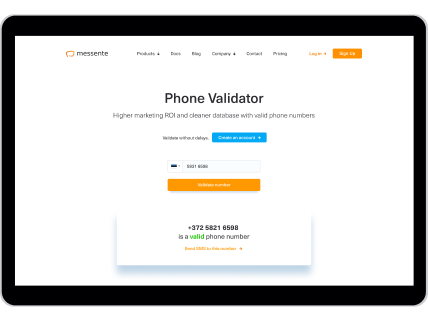 Step 3
If you wish to validate another number, enter it in the form above and click on the button.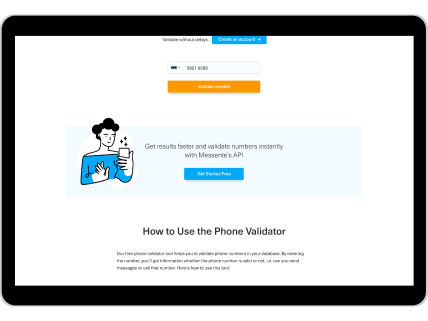 Step 4
Create a Messente account to start sending messages to that number and look up numbers automatically using our
Number Lookup API
.
FAQ
How accurate is this tool?


Messente's Phone Validator uses Google's public database to check the numbers; no HLR checks are done. Thus, there can be cases where the data is not accurate. We recommend using Messente's Number Lookup API for the most accurate and up-to-date information.


Why should you use the phone validator tool?


If your business is using and collecting customer's phone numbers as a critical part of your services, then this tool is essential for keeping your databases clean of invalid phone numbers. This tool will save you from the hassle and cost of calling or mass texting numbers that don't exist.
Why does the phone validator tool exist?


There are billions of phone numbers in the world, and through messaging API providers such as Messente, it's possible to connect with all of them. There is one condition, though - the phone number has to be correct. Thus, we built a phone number validation tool to keep your database up-to-date and increase the ROI of your messaging activities.


What are the benefits of a phone number verification tool?


Use this tool to tap into an extensive network of global mobile operators and verify all the numbers in your database. Keeping your database updated will lead to:
Better customer experience
More efficient business processes
Detailed information about each phone number
Cleaner database
Lower messaging costs


Why is phone number validation necessary?
One of the most frequent reasons why a message doesn't get delivered is an invalid phone number. Phone number verification will lower your costs for sending messages and making calls as you don't have to waste time and money on invalid messages. This tool should be the first step before launching a campaign or adding the number to your customer list. Also, it's a great tool for sales.
How does phone validation work?
Messente's phone verification tool will connect with the number to see if it's in use and if it's able to receive communication. This is done via a request that will not be visible to the phone number owner. They will not receive any notifications when you are using this tool.


What are the differences between phone lookup and phone validation?

Phone lookup is the process of searching for and locating specific information about a person, such as their location or name.
Phone validation is the process of checking if a phone number in your database is accurate and valid. It clarifies if a number is active and able to receive calls and texts. It can distinguish real phone numbers from fake ones.


Does phone validation work for personal and business numbers?

Yes, our phone number validator checks both personal and business numbers to see if they are valid and able to receive calls and texts.