Messente is an SMS marketing platform
Expand Your Business with 5x ROI from SMS marketing

Remind users with 90+% delivery rate
Send marketing messages globally
Free account manager for timely support
Send marketing messages and reminders reliably to anywhere.
190+ countries and 800+ operators.

High deliverability
With Messente's SMS marketing platform, you can rest assured that your business-critical notifications and marketing messages are delivered right into your customers' hands. Our customers often achieve delivery rates as high as 98%.
Competitive pricing
Messente provides volume-based pricing for SMS marketing with free credits included to try it out before scaling. SMS prices vary according to country and volume. You can
calculate pricing here
or
get a quote
for tailored pricing.
Omnichannel marketing
Send marketing messages via SMS or other over-the-top channels such as Viber. Reach your customers on their channel of choice with fallback options.
Find out more in our documentation
We give you the tools to reach customers globally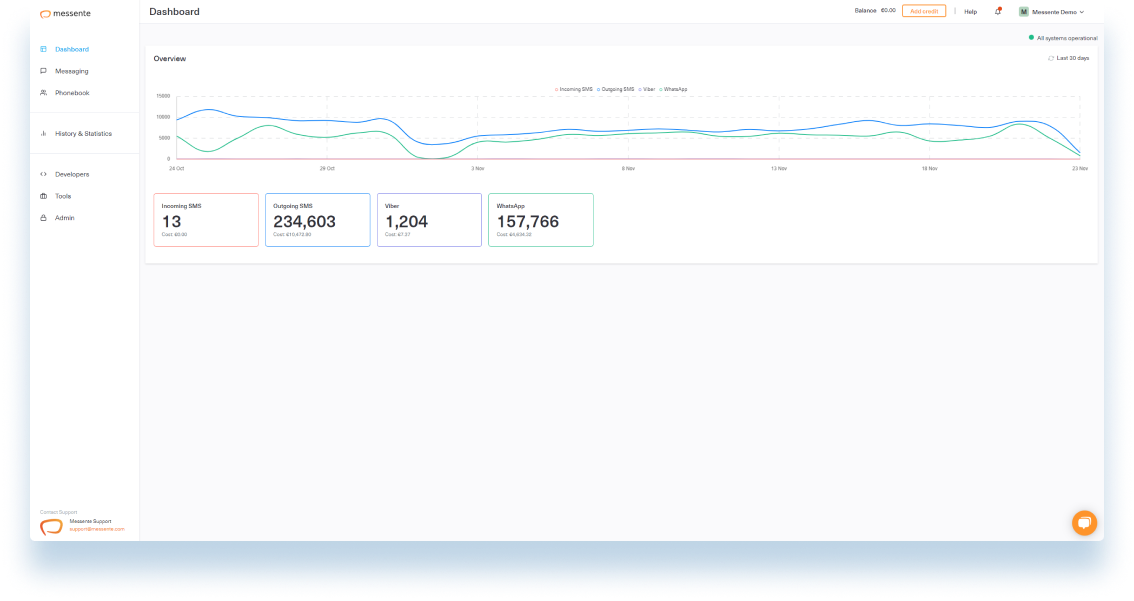 No Hidden Fees
Fair and transparent pricing. No setup or subscription fees to worry about. Pay only for the messages that you send.

Free Support
Get in touch with a real person when you have questions or need a hand. Included free with all of our services.
Adaptive Routing
Your messages arrive fast thanks to smart routing algorithms which determine the quickest delivery or rerouting channels.
Complete Analytics

See how your messages are performing in the online dashboard. View campaign history, delivery reports and more.
SMS Campaign Tools
Run targeted campaigns with tools like message preview, templates, scheduling, unsubscribe links and CRM integration.
Built to Scale
Trust an easy-to-integrate, enterprise-grade API to handle any volume of messages your company needs ­as you grow.
Reliable SMS marketing platform built to scale
High network throughput

Send as many marketing messages as you need with fast and reliable deliverability. With Messente, you can send up to 100,000 text messages per second.
Direct connections
The user receives a unique one-time verification code by text via Messente's systems. This is sent and received more or less instantly.
Exceptional customer support
Your server uses the API to send the inputted code back to Messente for verification. If it matches the original code, user verification is completed.
What our clients say
Messente is built for every use case
Our SMS marketing platform fits your business needs no matter the use case

Offer increased security, stay compliant, and grow your business with OTPs and marketing messages.

Make sure that every package gets received and decrease alternative costs with SMS notifications.

Send shipping notifications and marketing offers to increase customer LTV.

Create personalised appointment reminders to decrease no-shows and protect your income.

Send booking information, manage reservations, and create marketing campaigns to improve customer service and increase revenue.

Value that can't be matched


FAQ
What are SMS marketing platforms?
SMS marketing is a marketing strategy that helps your business send marketing messages to a large number of people within seconds. Segment your audiences and filter your texts to reach the right audience at the right time. Send your first SMS message today.
What's Messente's network throughput?

When sending marketing messages, it's essential to know what your network throughput is. Network throughput is how many texts you can send per second, and it depends largely on the mobile operator. With Messente you can send over 100,000 texts per second.
Where can I send SMS messages?
You may send messages to all your business clients who have opted in for that form of communication. Our Omnichannel API and direct connections with over 800 mobile operators worldwide allow you to send text messages globally.
What channels can I use for SMS marketing?
Messente has built a state-of-the-art messaging platform that works via an Omnichannel API supporting SMS and Viber. More mass messaging channels are being added as we develop our range of business messaging products.
How much does Messente's SMS marketing platform cost?
With Messente, you can send SMS messages from 0.001€ per text message. However, SMS or mass SMS pricing largely depends on your business's text messaging volumes. You can calculate your pricing here or request a quote using our web form for volume pricing.

Who offers the best SMS marketing service?
There are countless text messaging providers around the world but what sets Messente apart from the rest of the competition is our partnership approach. We offer free support to all our customers and account managers at no cost when opting for our SMS marketing platform.
Can I send a text message on my own just once?
Yes. With Messente's dashboard, you can send a message on your own. Our SMS marketing service is easy to use, and you can get started for free. Send your marketing message once or as many times as you like as long as you have your customers' phone numbers and opt-ins.
Can I personalise my text messages?
Yes. SMS marketing doesn't need to be boring. When sending SMS messages or any kind of text message with Messente, you can personalise your text messaging with tags such as your clients' first names or any other relevant data.
Can I send messages without opt-in from customers?
No. Text messaging without your customers' consent is just as bad as sending spam text messages to strangers, which is against the telephone consumer protection act or GDPR. Make sure all your text message recipients have given permission to receive SMS marketing.
Get started with SMS marketing today
Free credits included
Sending large volumes of messages per month?